Looking back with… Ana Navas, the winner of the NN Art Award 2020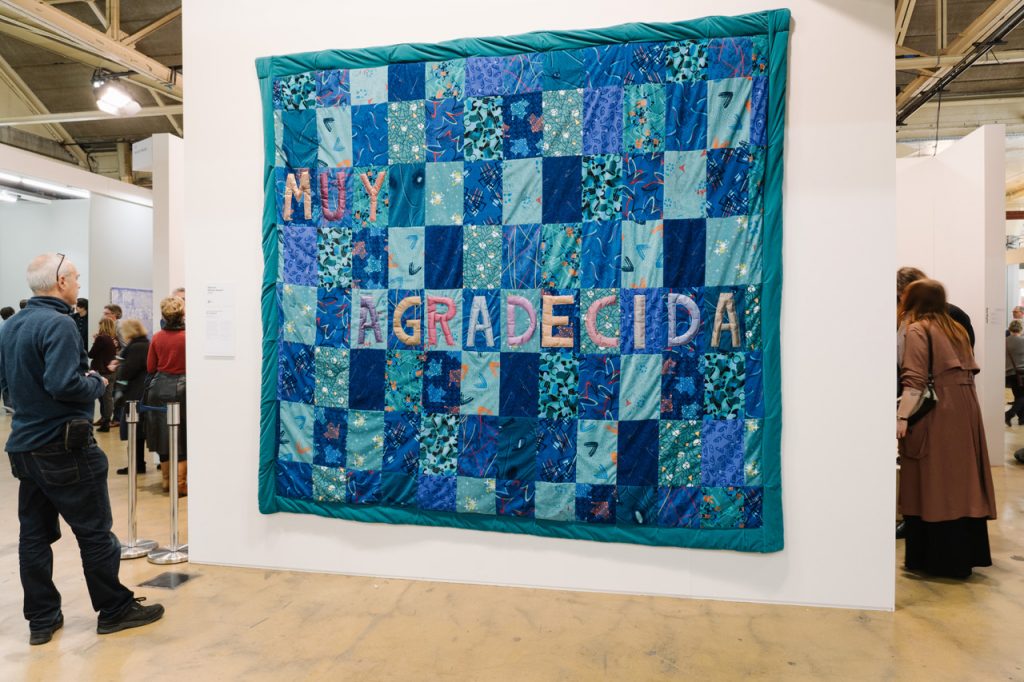 The summer edition of Art Rotterdam 2021 marks a remarkable lustrum: the five-year anniversary of the NN Art Award. NN Group has been a partner of Art Rotterdam since 2017 and has since awarded a yearly incentive prize to extraordinary contemporary art talent with an innovative and authentic perspective and visual language. An annually changing jury of art professionals selects four promising talents, from which a winner is ultimately chosen. These are exceptional artists who were trained in the Netherlands and who also show work at the fair. Last year, the prize was awarded to the Venezuelan-Ecuadorian artist Ana Navas (represented by tegenboschvanvreden), who received a ten thousand euro check during the official opening of Art Rotterdam.
In her work, Navas plays around with preconceived notions about what art actually entails. For example, which elements ensure that an object is regarded as a 'proper' (archetypal) painting? Transformation, assimilation, translation, femininity and appropriation are central themes in her multimedia practice. She is known to asks questions about the form, history and function of an object, before examining how those elements relate to each other. Navas is also fascinated by the ways in which art is perceived outside of the established art context. In 2014, Navas completed a residency at De Ateliers in Amsterdam, followed by residencies in France, Mexico, Brazil, Colombia and SCHUNCK in the Netherlands. Before that, she was an artist in residence in Paris and Strasbourg, among other places.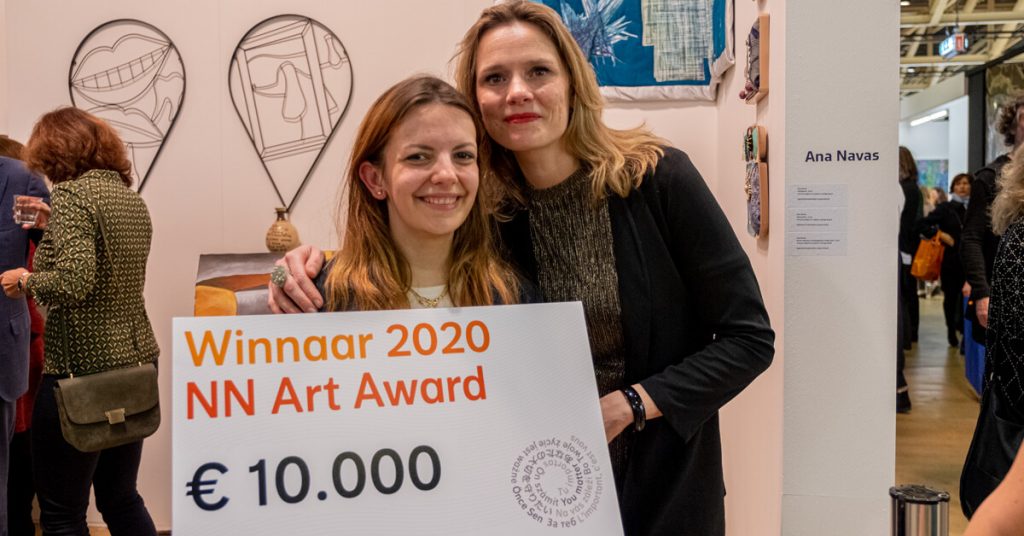 We interview Ana a year after her win, to see how she is doing. How did she experience the lockdowns and did the pandemic throw a spanner in the works?

Ana Navas: "It was really remarkable to receive the award in February 2020, at a moment when none of us could have expected what was yet to come. For 2020, my plans were to do a show at the space Sagrada Mercancía in Santiago de Chile (where I ended up spending the lockdown because of local restrictions), a residency at Fondation Fiminco in Romainville (in France) with the support of the Mondrian Fund, and a show with my colleagues Mila Lanfermeijer, Evelyn Taocheng Wang and an exhibition design by Donna van Milligen Bielke in Nest The Hague. I feel incredibly lucky that all of these projects, that were so important and close to me, could still happen, despite logical delays. I know I was probably the exception, compared to the year many workers in the cultural sector must have had. In this sense, receiving the award was a big motivation, as well as a source of relief. We are in the middle of a health crisis that has underlined the social inequality even more and has lasted much longer than I originally expected. I still don't feel able to formulate conclusions towards the future."

How did it feel to win the NN Art Award?
"I experienced the award not only as great financial support - although it definitely is when it comes to upcoming projects - but also as an opportunity to create visibility for my work. As a nominee, you receive an outstanding booth at Art Rotterdam and the help to install your works in the best way. At the same time, you're getting to know the other nominees and the jury, and the nomination in itself can be a relevant platform for future opportunities. I would like to thank the NN Art Award for its recognition of my work and for including the support of arts and culture as part of their values. By organizing the award, but also, for example, by having a collection. Artists really engage with their work on a daily basis and a prize or an acquisition can have a sizable impact on their careers. Of course I was very happy to win, but I really think all candidates had strong presentations and my work was exhibited in great company at the award booth."

How did the works that you showed during Art Rotterdam come about? Did you follow a specific process?
"During Art Rotterdam 2020, I showed a selection of recent works, many of them dealing with the notion of the costume. I often think of my praxis as a pursuit of the traces of an object's genealogical tree: what are its possible ancestors, influences or the new contexts in which it might reappear?

I trust a lot in my own notes. I will, for instance, write organically about objects that intrigue me, comments I heard, and observations on places in general. Many of these get dismissed quite quickly, but if I notice an idea keeps repeating across them, then I trust there is something genuine about my interest in it and that it is worth to start - or keep - working with it.

Willing to underline the connection between past art movements and design, I developed a series of art costumes for domestic objects. The drying rack - dressed up as a public sculpture - that I presented in the booth is a good example for that. The "Taras" series formed while looking at different online materials such as stock photos, backgrounds or images that were the result of typing in search terms like 'painting', 'contemporary paint' or 'abstract paint'. I became aware of the constant repetition of a number of gestures and motifs, like dripping paint for instance, or striking out lines or making movements with the spatula. Rather than copying those images, I reproduce an archive of these gestures on a regular canvas, which I then cut and sew ln monochrome cotton, creating a composition that is much more like a general, vernacular idea of a painting than a painting itself.

Other works dealt with the notion of costume in a less material way. I found inspiration in fashion movements like 'power dressing' or literature advising women on how to behave in order to gain authority. It made me view the costume as a mechanism of hiding, miming, rehearsing or adapting, which I subsequently translate into textiles, collages or sculptural pieces."
The winner of the NN Art Award 2021 will be announced during the summer edition of Art Rotterdam, which will take place from 1 - 4 July in the iconic Van Nelle Factory. The nominees for this year are Priscila Fernandes (Division of Labour, London), Lilian Kreutzberger (CINNNAMON, Rotterdam), Claudia Martinez Garay (GRIMM, Amsterdam) and Erik Mattijssen (Cokkie Snoei, Rotterdam). The work of the four nominees will be presented during Art Rotterdam in the booth of the NN Art Award on the exhibition floor. To celebrate the lustrum of the prize, this year, in addition to the NN Art Award, a public prize will also be awarded: the NN Art Award Public Choice. That way, the public can decide who deserves an extra incentive prize that's worth € 5,000. You can place your vote here. The winner will be announced on Sunday 4 July at 3 PM via a livestream.